Chamber Directory
View the all new chamber directory, published by the Sequoyah County Times!
Click Here
Our Mission
To enhance the economic vitality of the Sallisaw area while striving to create the best quality of life possible for our citizens.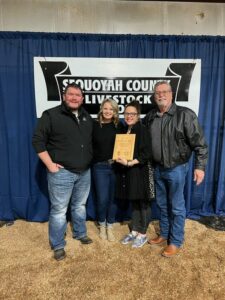 News
Accepted by daughter Dandra Randolph and husband Dan Callahan.
Read More »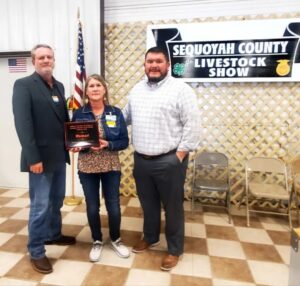 News
Our February Member of the Month is Walmart. Thank you for all you do for our community.
Read More »
Let us be the "end of your trail"...
On behalf of the Sallisaw Chamber of Commerce I would like to welcome you to the great community of Sallisaw! Whether you are planning a move to our area or are just vacationing with us, I think you will find our community to be one of great warmth and friendliness. Visiting our many historical and entertainment sites will keep you busy for several days. Our natural beauty which encompasses lakes, mountains, and a wildlife refuge are breathtaking to behold. Being a part of the famous Trail of Tears area, we have much to offer when it comes to the culture and history of the Cherokee Tribe.
The staff at the Sallisaw Chamber of Commerce is here to serve you in any way possible. Our office, located at 101 North Wheeler Avenue, is open Monday through Friday, 9:00 a.m. to 5:00 p.m. and closed from 12:00 p.m. to 1:00 p.m. for lunch. As you peruse this website, feel free to contact us with any questions you might have about Sallisaw and the surrounding areas.
For the more serious visitor or those of you who are contemplating a move to our area, we will be more than happy to send you a full packet of information about us. Again, let me welcome you to Sallisaw. A place where you can come, relax, enjoy great food and entertainment along with the beauty of Green Country at its finest. Whether it's for a day or for the rest of your life, we'd love to be the "end of your trail".
Chamber Awards & Memberships